All about skylights
Natural light can improve the atmosphere of your building in various ways. Immersing the interior with natural light can significantly increase the mood of its inhabitants and at the same time add a more dimension to its beauty. In addition, daylight can also help improve energy efficiency, reduce energy costs and regulate the temperature of your home. Undoubtedly, one of the best ways to bring natural light into your home is to use Skylight. In the following, we provide you with a guide to the different types of Skylight that can help you choose the right glass roof for your building. ALUSYS is well known Skylight manufacturer in Iran and the Middle East.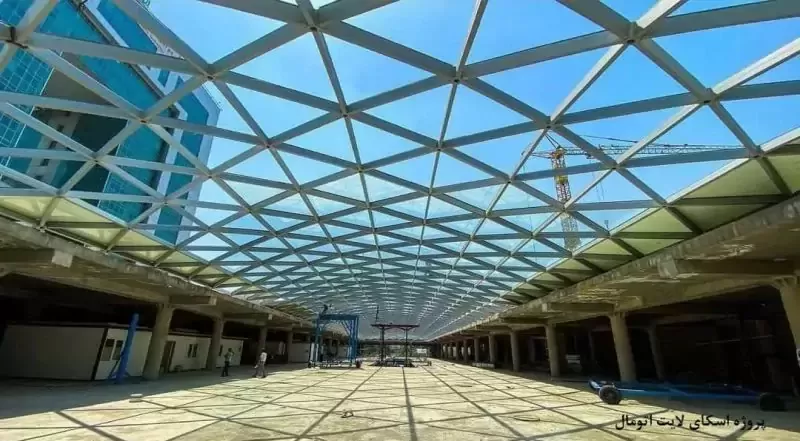 what is skylight?
Skylights are a beautiful structure made of glass instead of the usual materials for the roof of the building. In fact, these roofs are beautiful and environmentally friendly solutions for lighting residential or commercial buildings. These systems save energy by using natural light instead of electricity as a light source. Creating a stable self-standing structure is possible with the ability to withstand the forces of snow, rain, wind, as well as resistance to heat, cold, humidity, sound and air by using two metals, steel and aluminum together. Installing a skylight in a commercial building, in addition to providing natural light, gives a feeling of being outdoors for the residents inside the building.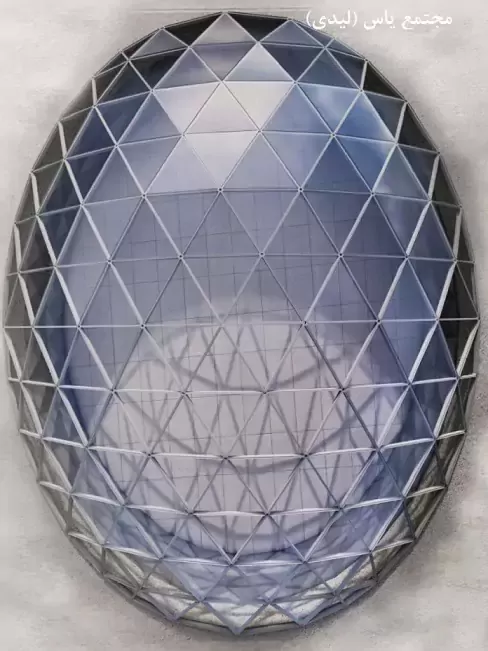 Types of skylights
Skylights are divided into different categories based on function and appearance. Here are some important types:
Flat skylights
When deciding to install a skylight on your flat roof, maximizing the amount of natural daylight that enters your building is often your number one priority. Flat skylights consist of several units of double, triple or multi-layer glass frames. These glasses are usually insulated from behind to minimize the heat exchange inside and outside the building. The distinctive feature of this type of glass roof is having a clear view of the sky with the least obstruction.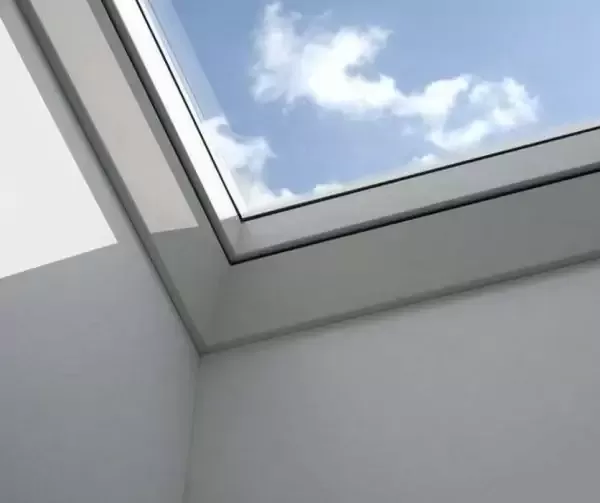 Lantern skyghits
Lantern skylights built for a modern or contemporary home give you a great view of the sky and add up to 3 times more natural light than vertical windows. They also provide a beautiful effect by analyzing and reflecting light by lantern-shaped intersections. The advantage of this pyramid mode is maximizing the light received and minimizing the visibility of the ceiling frame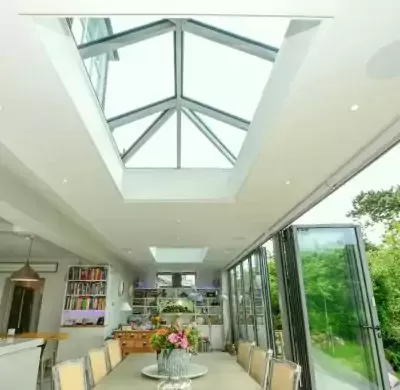 Dome shaped skylights
Domical skylights are an eye-catching way to place natural light in a room. These curved glass roofs have been used extensively in the past and are still very popular today. The main reason homeowners invest in a Skylight view is to add more natural light to their home or office. Dome glass ceilings give the room more light than flat types. The curvature of the dome design allows it to bend sunlight and only add some light to the room.
One of the things that can negatively affect your mood is that your sky is full of rain or snow. Dome glass roofs do not have this problem. This design allows rain and snow to come out of your roof easily. So regardless of the weather outside, you can enjoy your skylight.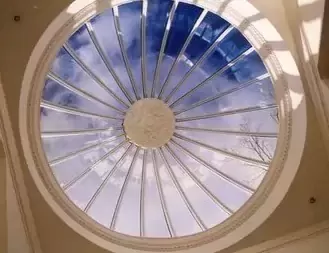 Free form skylights
Free form skylights are commonly used to cover the roofs of large buildings such as commercial complexes, halls, and museums. The characteristic of this type of roof is that its design does not use middle columns. Usually, these types of ceilings make eye-catching architecture visible to the public.
ALUSYS Company is the largest operator of Skylight Freeform in Iran and the Middle East. Well-known projects of this company in Iran include Iran Tehran auto mall, Ava Center Commercial Complex and Lady Commercial Office Complex. In the video below, you can see the time lapse of the construction of Ava Center Free form Skylight  .
Another skylight done by ALUSYS in Iran and the Middle East is Auto mall's single layer and free formed Sky Light. Next video shows the details of this work.
Skylight opening (small size models)
Skylights are available in opening and fixed models. opening skylights are also commonly referred to as "ventilated skylights" because, in addition to providing light to a space, they also allow air to circulate.
Opening skylights usually have a hinge at the top and open a few inches. Because they are out of reach, manufacturers offer a variety of ways to control them. Here are some common types of controls for skylights that open:
Manual  opening Skylight: This type of Skylight is one of the most basic models on the market. Manually sliding glass roofs, as the name implies, open and close manually and do not use the remote control. Hand-held skylights, less than 15 feet high, usually have a beam for easy access. This type of skylight is a very affordable choice, but it requires more effort to open than the motorized and automatic models.
Motorized skylights: These skylights can be opened and closed using a wall switch or remote control. Motorized skylights, which have additional features such as an internal canopy, are usually provided with a wireless remote control and a special wall console. This model is suitable for ceilings that are high and out of reach and for skylights that open regularly. They are also more expensive than manual types, but they are easier and more convenient to use. Installation costs are also slightly higher because they require electrical work.
Automatic skylights: The most expensive type of applicable skylights are automatic skylights. These models are usually integrated with a sensor that automatically shuts off the skylight when it detects rain or moisture. More sophisticated models include thermal sensors that automatically open the skylight when the room reaches a preset temperature. You can also program automatic skylights to work at certain times of the day.
Ventilated skylights have other practical benefits in addition to improving the appearance of your building. Aside from being a source of natural light in a space, they serve another purpose by allowing air to enter the house. This type of skylight can be opened and is basically like a window, but it is installed on the roof of your house. They are often installed in areas that need more ventilation, such as bathrooms and kitchens. Ventilation skylights are very useful in these cases, because while keeping the flow of fresh air in the room constant, it allows excess moisture to escape from the space
Skylight sizes
Skylight sizes do not follow the exact standard dimensions because they can be customized to any size depending on the needs and specifications of the building. They are available in different widths, lengths and heights and depending on the type and design of the skylight, their size may be considered different.
Standard dimensions of Skylight
Rectangular and flat skylights in small buildings are usually 14 to 72 inches (36 to 183 cm) wide, while their length varies from 16 to 96 inches (41 to 244 cm). Of course, in large buildings, the dimensions of Skylight can be implemented up to several tens of meters.
Skylight glass thickness
The thickness of the glass used in glass ceilings also varies depending on the design and size, but usually the larger the skylight, the thicker the glass needed. The typical thickness of glass used for a skylight roof varies from 1 inch (3.2 mm) to 6 inches (6.35 mm).
Skylight suggested sizes based on room type
Corridor, toilet and bathroom, closet and storage – should be 30 to 40 cm in diameter.
Small rooms and breakfast bar – should be at least 50 cm in diameter
Large bathrooms – 40 by 40 cm
Small rooms like study room – 50 by 50 cm
Laundry room, entrances – 60 × 60 cm
Large square rooms, living rooms and lounges – 70 ۰ 70 cm to 80 ۰ 80 cm
To illuminate the hall – 77.5×77.5 cm
For very large rooms, the dimensions should be at least 90 cm by 90 cm, 1 m by 1 m, 1.2 m by 1.2 m.
Benefits of Skylight
Add natural light (and solar heating) to the building
The biggest advantage of Skylights is that they let in natural light into your space. Consequently, this light brings you solar heat. Why might this matter to you? Natural light improves mood and even helps performance in the workplace. Also, heating the building with sunlight can save on heating costs in the cold season.
Fresh air and better ventilation
Skylight windows can be opened to let in fresh air. It helps ventilate, freshens the air. So without turning on the air conditioner, it cools your living space.
Save energy costs (electricity and heating)
As mentioned above, sunlight in cold seasons can heat your spaces and reduce your energy costs (just make sure you install a skylight that is completely insulated and has laminated glass!)
Natural views and "add space" to the building
Like mirroring walls, Skylight can make a room look bigger. In addition, you can see the night sky or nature during the day.
Better sleep, brighter morning
Sleep peacefully under the stars, with a glass ceiling in the bedroom. It also allows the sun to act as a "nature alarm clock", which can help regulate your circadian rhythm and increase your overall sense of well-being.
Enhance the beauty of the building
Changing the decorative elements of the building such as skylights can increase the value of your home. It also increases the resale value and gives the room an attractive atmosphere and natural light.
Disadvantages of Skylight
However, any new technology has potential drawbacks, and Skylights are no exception. As experts who have run numerous projects, we can tell you that many of the bugs are due to incorrect pre-installation decisions.
Invest in poor quality equipment
Select the location of the skylight without considering scientific considerations
Hire a service specialist without experience in installing and installing skylights
This list could go on. However, most of these issues can be avoided by doing the exact opposite – quality equipment, proper advice, and choosing a professional Skylight company.
If you cover all the basics with the right choice (as mentioned above), the disadvantages will depend on your unique situation. Here are a few things to consider:
If you do not install it properly or do poor quality equipment, you will lose heat through the glass.
The glass roof brings too much light or too much heat during the day. That's why consulting in this area is a good idea, so you should install it in an area that meets your needs without letting the natural benefits get out of hand.
What if an object falls on the roof glass and breaks the glass? It's possible, but you do not have to worry. We advise our customers in Iran and the Middle East to buy laminated glass to avoid the risk of breaking. This type of glass is covered with a thin film that holds the broken glass in place instead of breaking it and falling into the house.
How to choose a suitable skylight for your building?
According to industry standards, the area of ​​a skylight should be approximately 5% of the floor area of ​​a room with many windows. On the other hand, if your room has few windows, it should be at least 15% of the room surface. This ensures that your skylight is energy efficient.
To determine the area of a room, simply measure the length and width of the floor using a meter. Multiply the length of the room by its width and the number is the total area of your room. If the room is well lit and has many windows, multiply the total area of your room by 0.05, while if it has few windows and is generally dark, multiply by 0.15. If the room is exactly in the middle or it is not dark or light, just use an average of 0.10 and multiply it by the total area of your room. The resulting number is the approximate area or total area of your skylight.
Skylight affordable price
Here at ALUSYS, our mission is to bring the power of natural light into your home or office. For many years, we have focused on the natural lighting industry, and during this time, we have designed and installed various types of skylights in Iran and the Middle East with affordable price. A common question we are asked is how much does it cost to run Skylight?
At ALUSYS we have a wide range of glass roofing options from small tubular models to large architectural solutions. In addition, our interior design team can produce custom solutions for any building. ALUSYS has a good reputation for the highest quality products and services to your satisfaction with affordable price. The implementation costs of these systems vary depending on the type of structure, location, type of profile, size, model of glass used. Based on this, you can contact us to estimate the cost and consult with our experts.
ALUSYS: Skylight manufacturer in Iran and the Middle East(Some implemented projects)